Pergola Plans for Your Outdoor Living Space
Everyone has their own idea of the perfect outdoor living space. If your plan includes a pergola, picture yourself lounging on a comfy sofa under a beautiful patio cover to transform your space into a relaxing retreat. Build in a pergola and you'll find that your design is both functional and enchanting. A garden feature that dates back to Ancient Greeks and Romans, the pergola is an outdoor structure that makes your patio an inviting haven.
As you review your pergola plans, jot down some measurements for the area you want to be covered with the pergola. Think about how much filtered light you'd like to adorn your patio, the style and finishes you'd like, then compare that with the features of our wood pergola kits. You'll be well on your way to enhancing your outdoor living space.
Features to Consider for Your Pergola Plans
Imagine the perfect picture for enjoying your new outdoor living space with friends and family. What comes to mind when you think of adding some shade and structure in that picture? Is a sturdy, more permanent structure appealing? If so, a pergola is a great way to expand the use of your living space. Read on, and these common questions can help you with your plans to include a pergola in your new patio!
How much patio shade do I need?
The style you choose depends on how much light you'd like filtering through your pergola to your patio. Described below, the Big Kahuna pergola kit offers the most patio coverage. There is a range of patio coverage with each pergola style.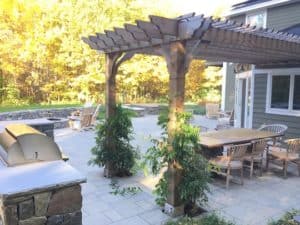 Do I want my structure attached to a house or other building?
Attached pergola kits can create a room that extends right out your back door. Freestanding pergola kits also offer that feature  but can also be built in a location further away from your home.
How much space do I need for my patio furniture?
If you're planning to entertain large groups or would just like to have enough space to comfortably move around under your patio cover, you can opt for a large pergola ranging between 17×17 up to 20×20. If you prefer a small or medium size, there are sizes ranging from 8×8 up to 20×20, as well as custom pergolas that can be built to fit in any space.
Will I have an outdoor kitchen area for cooking and should I plan to have it covered?
Even if your outdoor kitchen plans consist of simply rolling your Weber Grill out for cookouts, you'll want to take measurements to factor that in to your pergola measurements. If you're not sure how to measure for a pergola, a good rule of thumb is to start with the measurement of your patio (existing or to be built), and then determine how much space is required for the furniture or BBQ area.
There are other factors to consider, but these will get you pointed in the right direction. Our Guide to Choosing a Pergola is a helpful resource, as well as How to Measure for a Pergola as you develop your patio design.
Next we'll talk about the highlights of each of our pergola styles and some typical uses for each pergola to see how that fits with your pergola plans.
Typical Uses for Each Pergola Style
We build 5 styles of pergola kits. Three of the pergola styles are full-size pergolas that can be built in freestanding or attached. Our full-size pergola kits (Big Kahuna, Sombrero, and Fedora) are typically chosen for patio covers, outdoor kitchens, carports, or poolside shade. They're offered in standard sizes ranging from 8'x8' all the way up to our large 20×20 pergolas. Any custom size can be built, and we're available to assist you in measuring for a custom pergola.
In addition to our full-size pergolas, we also build the Visor pergola kit and the Brim pergola kit. The Brim is available only in freestanding and the Visor is available only in attached. This snapshot of each style will guide you in tackling your pergola plans and completing your outdoor living space today!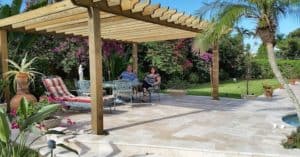 Big Kahuna Pergola Kit. The Big Kahuna pergola kit is a classically designed pergola built for creating a shaded area over your outdoor patio. The pergola is a gorgeous wood structure that adds appeal to any backyard. Once assembled, you can add accessories such as hanging plants, string lights, or curtains. Since the Big Kahuna is built to stand up to hurricane force winds, it's an excellent and sturdy choice to complete your patio design. You can also opt to make this style pergola solar ready. We'll configure it so that it's ready to attach solar panels (solar panels not included). Top uses for the Big Kahuna pergola include:
Patio cover next to your pool;
Covered parking area or carport;
Outdoor kitchen;
Outdoor living room coverage;
Solar patio cover configured to be used to mount solar panels for various solar projects.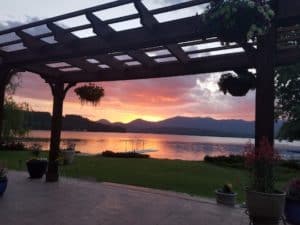 Sombrero Pergola Kit. The Sombrero Pergola Kit is very similar to our Big Kahuna design. The difference is that the Sombrero has half the # of rafters and half the # of top slats. This equates to an equally beautiful pergola to the Big Kahuna, but built to filter in more light. The uses range from outdoor BBQ station cover to backyard retreat. If your pergola plans include a patio cover that provides medium sun coverage, the Sombrero is the one. You can even add a hammock to relax while you watch the sunset from your patio pergola!
Fedora Pergola Kit. The Fedora Pergola Kit follows our high standard of quality and style. For pergola plans that require a more open design, the Fedora is a match! Built to last, our stylish Fedora pergola has a taller, un-notched roofing system that completes your patio design for many uses. This pergola works as a cover over any outdoor seating area next to your pool or any size yard. Add hanging plants, curtains, or lights to make your pergola sparkle – or leave it as is to admire the beautiful wood grain of our western red cedar or southern yellow pine. Do your plans include attaching the pergola to the house? You can order the Fedora as an attached pergola kit or freestanding.
Brim Pergola Kit. The Brim Pergola Kit works well as a border in your garden or along your patio or walkway. Typical uses for Brim pergolas are to create trellis for trailing or vining plants, a pergola arbor, or a plant hanger to display your favorite blooming plants. Other pergola ideas using our Brim include hanging string lights for seasonal decorations or a border for your patio pavers. Typical uses for Brim pergola kits include:
Garden border
Pergola arbor
Trellis for vining plants
Plant hanger
Visor Pergola Kit. Our awning style pergola kit, the Visor can provide shade above door openings or windows, and adds a decorative feature to your home's exterior. Typical uses for Visor pergola kits include:
Awning
Plant hanger
Decorative feature
How to Incorporate a Pergola into Your Patio Design
If you don't know how to build a pergola, one of the best ways to incorporate this classic patio cover into your design is to purchase a pergola kit. Ours are built so that you can assemble it yourself with a couple helpers in a weekend. Or you can hire your favorite contractor to give you a hand with the installation. Either way, you'll be able to turn your dream pergola plans into a reality with a quality pergola kit from Pergola Depot!
The post Pergola Plans for Your Outdoor Living Space appeared first on Pergola Kits by Pergola Depot.
This content was originally published here.